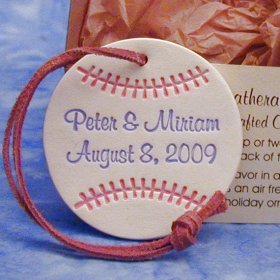 ---
As low as $2.95, unpersonalized.
Personalization @ 25 ¢ each + $20.00 setup.
Gift boxes, fragrance and card included free!

Baseball wedding favors options
Personalized Favor Information
Baseball wedding favors will be a home run at any sport theme wedding or other event.
The baseball favors are tied with leather lace instead of ribbon, just like a baseball glove.
The clay favor is porous to absorb fragrance oil. The ornament then becomes an air freshener.
Even though they are clay, they are quite strong.
They are about 3 inches wide and fit nicely into any of our ornament favor gift boxes.
A two tone color schemes with red lacing and blue lettering simulate the colors of a baseball.
The custom text goes on the front just like the trade mark name on a baseball. Text is limited to 2 lines due to the space available.
The baseball wedding favors will be a hit at your reception. And they are not just for weddings. The baseball favors can be used as birthday thank you gifts.
Some ball clubs have used the balls as fund raisers.
We have some special fragrances for these favors.
New mown grass, leather and no kidding, dirt. Or, feel free to choose from our other fragrances.
The favors are not scented before shipping.
We recommend letting the guest apply the fragrance. Not all the guests will want a scented ornament.
Choice of brown or white gift box and personalized card with tissue packing. Vial of aroma fragrance oil are all included at no extra cost.
We can also make a wind chime version but the chimes are a very special order. Please call us if you are interested in the baseball favor wind chime.