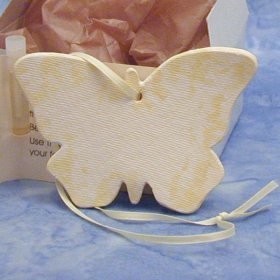 ---
Butterfly wedding favors as low as $2.75.
Personalization @ 25 ¢ each + $20.00 setup.
Gift boxes always included free!

Butterfly wedding favors options.
Personalized Favor Information
Butterflies symbolize freedom and beauty. For this reason they are often used as themes for weddings, showers and other special events.
Our butterfly wedding favors ornaments serve double duty. First, as a lovely ornament for any occasion. Second as a useful Aromatherapy diffuser.
We can hand color your favors in one of many hues. Often brides wish to match colors to the party theme. The butterfly favors can be personalized for a small fee. To personalize, we emboss the front of the butterfly with your text. If colored and embossed, we and we sponge color the back and the front edges. Or, if you choose, we can sponge color the front and back.
Included with each butterfly favor is a small vial of scent oil. We do not apply the fragrance before shipping. We leave this to the end user. Many people are sensitive to fragrance. Others may already have a favorite.
We also include a card with your custom text or message. This card is in addition to the custom text on the favor. The card is included free.
We are not for or against live butterfly releases. But live butterflies are not toys. Our favors are a good alternative to a live release. If you decide to have a live release why not include a lasting remembrance of the occasion?
The butterfly favors are about 4 inches wide by 3 inches high. We box them individually for your ease of handling. Boxing the favors also makes for safe shipping. We use recycled un bleached packing tissue.
Include free; the hanging ribbon, fragrance vial, personalized card and gift box.
No butterflies were harmed in the production of these favors. 🙂
---