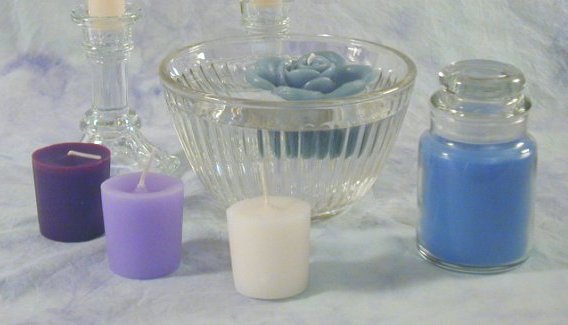 Candles have always been an important part of weddings and other special events.
They are often used in the wedding ceremony and on party tables as part of the centerpiece.
Candle wedding favors are also used as gifts and and most people enjoy receiving a candle as a favor or part of a gift basket.
We offer a selection of candle designs, colors and fragrances to suit almost any need.
The candles are not in the shopping cart and you will need to call us to get a firm price and shipping information.

---
Floating Candles
Use the 4″ floating candles in glass bowls as a part of a table decoration or centerpiece.
Float the candles in a container with water plants such as flowering water lily's or rose petals. Dye the water a contrasting color with food coloring for added impact.
You could even add some gold fish to the bowl. Make sure you have a good home for them in advance.
Because they are surrounded with water they are reasonably safe. They are especially nice when floated in a punch bowl. Just select an unscented color and make sure no one spikes the punch.
Choose from most popular colors in the rainbow and scents such as vanilla, cinnamon, lavender, and many more.
The price for the scented candles is $5.95 each and they must be ordered over the phone.

Jar Candles
Most people recognize these type of candles as they are vary popular for gifts.
The heavily scented wax is poured into premium grade glass jars that have plastic seals to keep the fragrance in until they are burned.
They are long burning and the fragrance will last to the very bottom.
The 5 ounce size are $10.00 each and the larger 16 ounce versions are $17.00 each.
They are suitable as decorations or as special thank you gifts.
The shipping cost for this type of candle is quite high due to the weight of the glass jar and the wax.
The candle shown here is blue but they come in a wide variety of colors and dozens of popular scents.
We sell them with out a label so you can personalize them as you wish.

---
Taper candles
Tapers or other tall candles are used for centerpiece decorations because the height gives upward motion to an otherwise horizontal arrangement.
These candles are hand made from bees wax and are both long lasting and drip less.
There are many colors to choose from so you should be able to match almost any color theme.
The tapers are round and available in 6 or 12 inch sizes.
The price for the tapers is $9.00 and $13.00 respectively, per pair.
We also offer square and hex candle sticks that will fit into any standard candle holder.
These are available in 10, 12, and 14 inch sizes.
The price is $10.00, $12.00 and $14.00 respectively, per pair.

Votive Candles
Votive candles are small and usually meant to be placed in a holder of some type while they are lit.
They come in many colors and fragrances and can be matched to any decor.
Holders are typically made of glass but other popular materials include ceramic or metal.
These candles can be used as inserts for other decorative candles such as sand candles.
The decorative candle is made using a wax with a high melting point.
The votive is inserted in the soft wax or a cavity is made to the size of a votive.
The inexpensive votive will be consumed while the decorative wax holds its shape and used over and over again.