This house is well suited to any small to medium small size cavity nesting bird such as finches, wrens, chickadees and others.
The roof over hang make a nice awning for sun and rain.
It also makes it a bit harder for predator birds to gain access.
This house is 11″ high and 11″ at the top, 7″ below and available with a 1-1/4″, 1-1/2″ or 1-3/4″ entrance hole.
Hang these feeders from a tree limb for shade anywhere from 6 to 14 feet from the ground.
---
Share This Page
---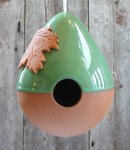 Apple Green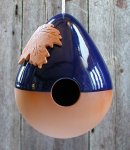 Colbalt Blue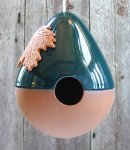 Forest Green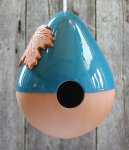 Teal Blue