Have you ever hung a thistle sock or seed bell out only to have rain and snow turn them into a soggy mess?
We designed the Dry Roof sock and bell holder to keep socks and bells dry after noticing how thistle socks became water logged and soggy in the rain. One design is for hanging and the other is for vertical mounting.
The same goes for seed bells and other topless feeders.
We chose to use larch wood for its natural weather and pest resistance.
We make these available in green and redwood stain as well as natural which weathers to a soft grey.
Does not include sock or bell or hungry birds.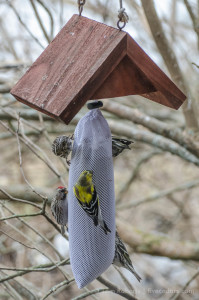 ---
Share This Page