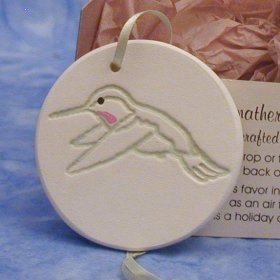 ---
As low as $3.00, unpersonalized.
Sorry, personalization not available.
Personalized card and gift boxes included free!

Hummingbird wedding favors options
The hummingbird wedding favors make a nice addition to any summer or garden themed wedding or event.
We hand paint the ornaments with a tiny black eye and a ruby throat, just like a ruby throated hummingbird.
The favors are about 3 inches in diameter and fit nicely into the 3 by 3 kraft brown or chrome white boxes, included free.
Choose a ribbon from the colors available.
We do not scent the hummingbird wedding favors but we include a vial of fragrance oil for the guest to use if they wish.
The hummingbird wedding favors are quite durable and bring joy to the heart as they represent freedom and serendipity.
The hummingbird ornaments and not just for weddings. Many customers have used them for baby showers, anniversaries and other events where a free spirited favor is called for.