aromatherapy is the practice of using various oils and fragrances to produce a particular effect on the mind and body.
When we developed the idea for our aromatherapy favors we decided to use the finest fragrance oils available.
We tries numerous grades and suppliers before choosing the oil we now use.
Each favor comes with an individual 1/6 dram vial of fragrance oil.
---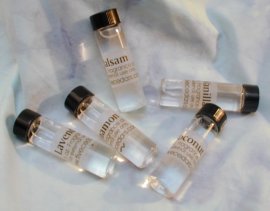 Each favor includes a 1/6 dram vial of fragrance oil, similar to a perfume sampler.
We also have available 1/2 ounce vials at $5.00 each
Fragrances available are Vanilla, Lavender, Coconut, Cinnamon and Balsam.
We can furnish special fragrances upon request.
---


Buy 1/2 ounce fragrance oils.
Vanilla
Lavender
Cinnamon
Balsam
Coconut
---
The oils we use are not the least expensive for a good reason. If you had to fill thousands of vials by hand you would understand why we use only premium oils!

Here are our fragrances in the order of popularity, most popular first. aromatherapy uses & benefits include:

Vanilla Oil
More customers choose vanilla oil over any of the others, 2 to 1. There may be several reason for this but probably the main reason is the fact that most people like the smell of vanilla.
After all its is associated with love and physical energy.
Vanilla lifts spirits while imparting a sense of well being.
The other oils are more or less requested on an equal basis.

Lavender Oil
The lavender oil we use has a pure clean fragrance that is not too sweet or heavy.
Lavender releases and calms the mind providing a soothing balance.
In fact lavender filled sachets have long been kept under bed pillows to aid in peaceful sleep.
The lavender oil is probably the most potent we offer, a little bit goes a long way.

Coconut Oil
Coconut oil does not have established properties but one whiff and the beach comes to mind.
Maybe its because it smells like tropical drinks using coconut or maybe its because it smells like that coconut suntan oil.
Either way its a very pleasant fragrance and it seems to go well with the sand dollar ornament.

Cinnamon Oil
Cinnamon has a warm fragrance that expands the senses.
The tones are deep with out any unpleasant overtones.
This fragrance goes well for fall or autumn theme events paired with the maple leaf ornament.

Balsam Oil
The balsam oil smells like a fresh balsam tree, or a pine woods.
It's an earthy woodsy fragrance and instills a sense of well being.
Balsam is very popular in the fall and for winter events.