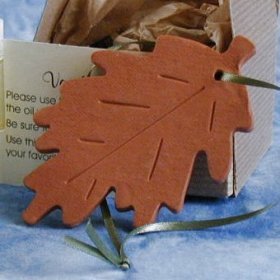 ---
As low as $2.75, unpersonalized.
Personalization @ 25 ¢ each + $20.00 setup.
Gift boxes included free!

Oak leaf wedding favors options
Personalized Favor Information
The oak leaf ornament favors is an addition to our fall theme line inspired by the fall leaf wind chime.
Oak trees are a symbol of strength and longevity and these terra cotta leaves are very durable and will be long cherished as a fond remembrance.
We created the oak leaf wedding favors in response to customers who loved the idea of a leaf but wanted a design other than the maple leaf.
Some customers choose to mix it up by offering both the oak leaf ornament and the maple leaf designs.
As for personalization, we can place one word under another for a vertical approach, or we use the typical one line over another for a horizontal solution. Please specify how you would like your oak leaf ornament personalized.
They are about 3 1/2″ wide by 4″ tall and fit in the 4″ by 4″ by 2″ box, white only.