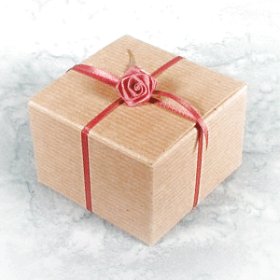 The only tools you will need for this box are a sharp pair of scissors and a hot glue gun.
Hot glue guns are available at any craft store. If you think you may have use for a glue gun in the future then pick a nice one but if you are just going to use it for the favors buy the least expensive one you can find.
The glue comes in a few different formulations but any hot glue should do. If you are in doubt ask at the craft store and they should be able to help you.
This is a straight forward design and only requires that you be able to wrap the box in ribbon and tie an knot. Of course you could substitute any other dried or artificial flower.
The ribbon should not be to wide as to distract from the size of the flower.
As in tying any knot, an extra finger can make things go smoothly, so get a helper.
Gather all your tools and materials on a clean and well lighted work space.
Get Started
Start by estimating the length of ribbon needed to go around both sides of the box.
Place the box in front of you on the table.
Lay the ribbon across the box, making sure the ribbon is fairly well centered.
Hold the box and ribbon and flip the whole thing over.
Make a cross by pulling one end of the ribbon over the other.
Hold the ribbon in place while you flip the whole thing over again.
Bring the ends together and tie a double over hand knot.
Trim the ends to 1/4 inch..
Glue the flower in place over the intersection of the ribbons.
For a variation you could change the place where the ribbons cross, for example instead of centering the knot move it off center by 1/3 the width of the box.
Don't the the lower ribbon with the upper ribbon because it makes it difficult to unwrap. Make it easy on your guests and just use a small amount of hot glue to hold the ribbon in place. The glue will pull away easily and your guests will not work up a sweat trying to open the box.
An alternative to this method would be to wrap the ribbon around the box and tape it in place. Then hot glue a separate bow over the cross formed by the ribbon.

Back To All Decorated Gift Boxes

Share This Page