Our original design aroma therapy sand dollar wedding favor ornament can be personalized.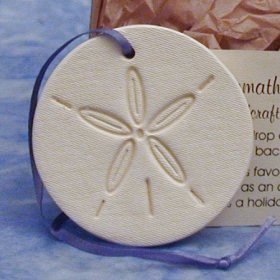 ---
As low as $2.95 each.
As low as $2.75, unpersonalized.
Personalization @ 25 ¢ each + $20.00 setup.
Gift boxes and card included free!
Sand dollar wedding favor options
Personalized Favor Information
Sand dollar wedding favors are hand crafted in our studio. They make a perfect seaside or shore wedding favor.
The sand dollar is one of the most noted symbols of the sea and shore. We decided to borrow the design for our favors.
Real sand dollars are somewhat fragile. This makes them difficult to personalize. Ours are made from fired clay so they are very strong. We can personalize your sand dollar wedding favors by pressing your text into the wet clay.
The personal message can be the couples names, the event date and even the venue.
We place the personalization text on the back of the favors. If you like we can press the sand dollar design into the face of the ornament. The back can be left blank.
The sand dollar wedding favors are 3″ in diameter. This is just about the size of what you might find on the sea shore.
We also include a personalized card at no extra cost. There is room for a few lines of bold text or a few verses of prose.
These favors include the vial of fragrance oil and card, hanging ribbon and are individually boxed.
Most customers choose the coconut aroma oil for the sand dollars but there is no rule. Pick which ever fragrance you like, mix them up, or choose none at all.
Some customers who looked at the sand dollar wedding favor ornament were interested in the sea shell wedding favor wind chime.
---
Please Note*
No sand dollars were harmed in making these favors.