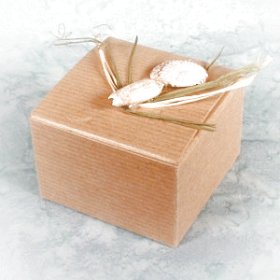 The seashell and raffia gift box is perfect for a seaside or beach theme wedding
You will need a hot glue gun and maybe some scissors to do these boxes.
The materials consists of sea shells which are available in any craft store.
They are sometimes sold in bags with a variety of shells. In addition to shells you probably would be able to find small sand dollars, sea horses and the like.
For this example we used some green and natural colored raffia to simulate marsh reeds but you could just as well find the real McCoy on your quest for shells and drift wood.
If you look for the shells on the beach keep an eye out for interesting pieces of drift wood or other found objects.
Spend a little time to arrange your items by size and type in a bowl or other suitable container. It will be much easier if you do not have to rummage around to find the right size while you are working. Have all your reeds or raffia cut to size be for you begin.
Get Started
Use common sense when small children are present.
Plug the glue gun in and let it come up to temperature.
Use the hot glue sparingly to fasten the reeds or greens to the box.
Next glue the largest piece in place to make a focal going.
Arrange smaller items in place around the focal point, work in odd numbers.
When you are finished go back and check each box for loose shells.
Always make sure you unplug your glue gun and let it cool down be for you pack it away.
Tip … Work in layers from the bottom up. For example first glue the reeds or greens down to form the background.
Do not to trespass on protected dunes or wild life nature preserves while you are searching for items. It is often against the rules to pick plants however shells on the beach are usually fair game.
This type of item should stay glued in place but it is better safe than sorry so pack them well for the trip to the hall.

Back To All Decorated Gift Boxes

Share This Page