We made these drop down greenhouse benches so the snow blower would not send all the stone into the yard and in the summer they do double duty as plant stands.
We used larch, which is a very durable wood. We prefer larch to pressure treated lumber as there are no chemicals used. It's naturally suited for use outdoors.
Here's how the benches work.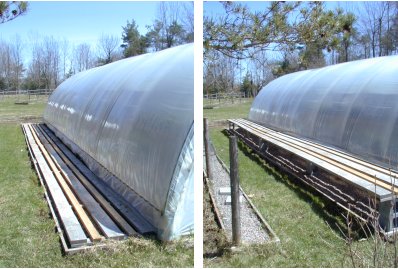 Laid down they make a path for the snow blower.
Up they make benches for plants and space underneath for tidy storage.

We use a framework on the ground to contain the granite gravel. The gravel is laid on top of landscape fabric so weeds and plants do not come up through.

Cinder blocks hold the benches up in the summer.

Please share this page