Where in the world can you find truly unique wedding favors? Wedding favors that are hand crafted?
At Five Cedars, we have been hand crafting wedding favors for more than 30 years.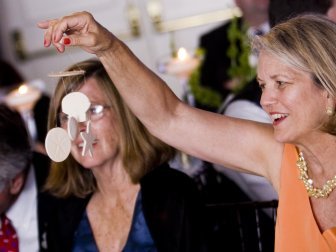 Aromatherapy Ornament Wedding Favors
Our aroma wedding favors are both ornament favors and fragrance oil diffusers. Each favor comes with an individual vial of oil. Choose from our stock fragrances or use your own personal favorite.
Wind Chime Wedding Favors
The wind chime wedding favors are durable and unique, hand made from our designs. Gift boxes are included free with all our ornament and wind chime favors.
Our original designs are produced in our Northern New York studio. We use only the finest domestic materials available.
Our original designs are functional and decorative.
Your guests will appreciate the quality of our hand crafted wedding favors. You can be sure they will not be left behind, or relegated to the back of a drawer. Show your appreciation for their attendance by giving a truly unique item that will be held and cherished in remembrance.
All of our favors are made to order, one at a time and every order receives our personal and individual attention.
Our online store is certified secure for your safety. If you prefer calling you will be speaking with the artist who creates the favors. We encourage customers to call or email us. We want to be sure all your questions are answered before ordering.
There is no need to worry when planning your wedding party. We have been in business for 30 plus years sending our favors world wide.
We are flexible and can design a custom favor for any event. Our customers have been the inspiration behind our most popular designs. Contact us today and let us tailor your favors meet your special needs.
If you are planing a theme party or event we offer beach theme favors and fall themed favorites. If that is not enough, we would be happy to customer design a wedding favor with your particular need in mind.
Please remember, these favors are not just for weddings. We have had the pleasure to make favors for many events including; anniversaries, fund raisers, birthdays, sweet 16, christening, first communions and and others.
If you have questions, please call 877-725-9291. We will be happy to assist you.
Best Wishes,
Phyllis and Tom Roberts

Share This Page