A week ago last Monday we were visited by a mob of 1st graders, most welcome visitors to the garden.
Early that morning one of the teachers from the Theresa Elementary School which is just around the corner from us, came with a request. "Could she and another teacher bring the 1st graders over for a visit?" Who could resist a visit from first graders !!
2 or 3 times a week young students parade by, hand in hand, for a walk around the block. We had often thought of inviting some of the children over but we never seemed to get the chance and now. here they were.
The teacher was Mrs. Walentuck and the other teacher was Mrs. Howard and they were in charge of about 35 or more inquisitive and very active children.
The day was blistering hot, in the high 80's and the sun was hotter. As soon as they were down back we were met with a barrage of questions; "What's this, what's that, can you eat this, can I have a flower, my mom forgot my sun screen….." It was great to see them and for the most part they were genuinely interested in the plants and gardens.
We finally split them into 2 groups, Phyllis took one and I took the other and we tried to give them an idea of what was going on from what we hoped would be a kids prospective.
They stayed for around 45 minutes but had to leave because they had another class right after that. The time went by so fast and we would have been happy to have had them longer.
Afterward the teachers brought giant thank you cards made from construction paper and with pictures of the kids in the garden. The cards were signed by all the kids.
Here are the cards.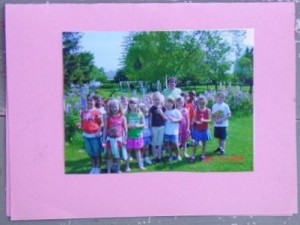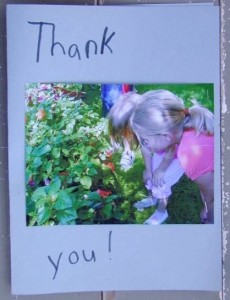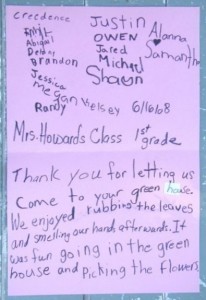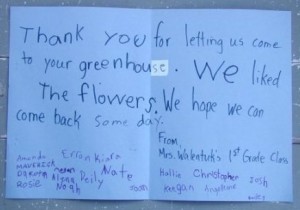 Please share this page