Our original design wind bells are hand cast in our studio using a special terra-cotta slip.
They are fired to almost 2000°F to make them impervious to the weather.
The the bells measure about 18″ tall with the hanger cord and leaf and about 5″ wide.
The ceramic wind bells have a soft mellow tone.
We use a terra-cotta oak leaf as the wind catcher and top the wind bell off with our signature maple leaf.
The ceramic wind bells are glazed with your choice of colors from our terra-cotta pallet. We can supply the ceramic wind bells with no glaze if you wish.
---
Share This Page
---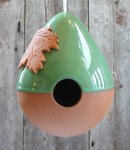 Apple Green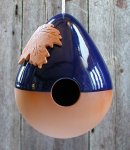 Colbalt Blue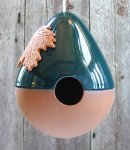 Forest Green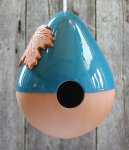 Teal Blue