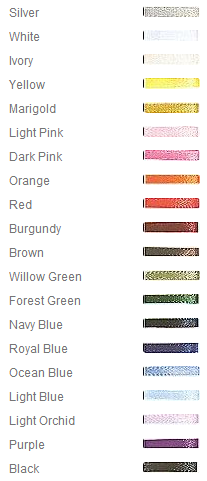 All of our ornament favors come complete with a hanging ribbon.
This is the ribbon that goes through the top of the favor.
Please do not confuse this with the ribbons used on the "how to decorate your gift box" page.
We do not supply ribbons to decorate the box nor do we offer ribbons with names and dates.
We tie the ribbons on the favors so when they arrive they are complete.
The brand of ribbon we use is made by the Offray company. It a high quality 1/8th inch double face satin. We chose this type because it is bound on both edges and does not unravel after it is cut and it's the best size to fit the hole..
The colors here are the most common ones we use. If you can not find a match from this list we may be able to order one special, however there may be an extra charge.
If you order a sample we include as many sample ribbons as you need, so please ask. We can't guarantee to match every color but we can sure try !
Please remember that the colors here may not be exactly like the ribbon due to difference in monitors and the color settings on different computers.
---
Share This Page