Butterflies symbolize freedom, beauty and hope, so what better choice for your wedding favors.
Butterfly Wedding Favor Chimes are hand crafted in our studio, to order, one chime at a time.
The butterfly wind chime wedding favors are made with the finest porcelain clay.
We can make them in bisque white, stoneware, or white with your choice of color sponged on.
The colors permeate the clay making them permanent and they can not chip or fade.
These chimes have a nice tone and are very strong and can be hung outside.
Please note* No butterflies were hurt while making these favors.
Butterfly Wedding Favor Chimes Options
---
Personalized Favor Information
---
Some customers were also interested in the
Butterfly Wedding Favor Ornaments.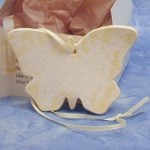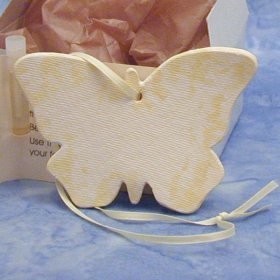 Share This Page